Doppelherz aktiv Cardio Vital
gluten-free
Cardio Vital
For your heart and cardiovascular health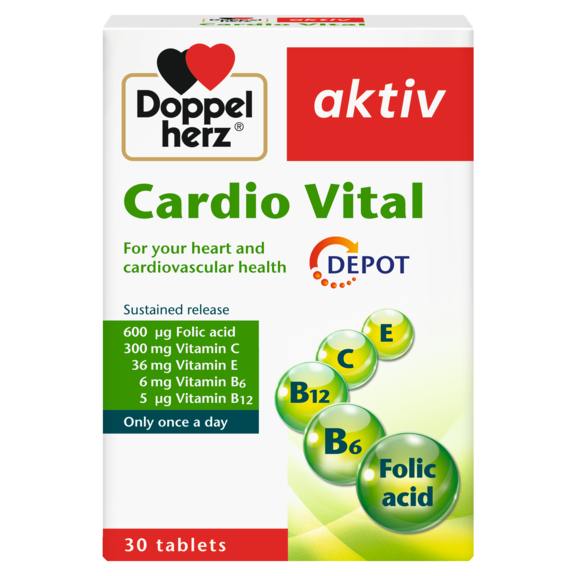 ---
Sustained release

Only once a day

Depot time-release
gluten-free
---
For your heart and cardiovascular health
In general, cardiovascular health is very important for good living. Heart and vessels are part of the system.
The Vitamins Folic acid and Vitamin B12 are involved in red blood cell formation. Folic acid is able to reduce Homocysteine in blood and keeps therefore the vessels "clean". Radicals damage cell walls including vessels. Therefore an antioxidant system consisting of Vitamin E and Vitamin C protects the cells against radicals. These four vitamins protect the circulation and cardiovascular system!
A better assimilation rate through DEPOT time-release The body can more efficiently assimilate low levels of micronutrients released over a long time than high levels released in a short time. This is what Doppelherz aktiv DEPOT tablets achieve! Thanks to their special coating, DEPOT tablets release micronutrients in a timely manner for a better assimilation rate.
Composition
| Composition | per tablet |
| --- | --- |
| Folic acid | 600 µg |
| Vitamin B6 | 6 mg |
| Vitamin B12 | 5 µg |
| Vitamin C | 300 mg |
| Vitamin E | 36 mg |
Consumption recommendation
Take 1 tablet daily at meal with enough liquid. Do not chew.
Note
Do not exceed the stated recommended daily dosage! Food supplements should not be used as a substitute for a varied diet. The product should be stored out of the reach of children. Not suitable for children under 12 years. Do not store above 25 °C.
Ingredients
L-ascorbic acid (Vitamin C), Lactose, Hydroxypropyl methyl cellulose, Starch, DL-alpha-tocopheryl acetate (Vitamin E), Monoand diglycerides of fatty acids, Silicon dioxide, Palm fat (fully hydrogenated), Magnesium salts of fatty acids, Pyridoxine hydrochloride (Vitamin B6), Shellac, Titanium dioxide, Talc, Glycerol, Pteroylmonoglutamic acid (Folic acid), Iron oxides and hydroxides, Polysorbate 80, Cyanocobalamin (Vitamin B12).
Reviews
No ratings have been submitted yet. Submit your first review here.